GCAP's hands on boiler training provides education for the industrial steam boiler operator for efficiency, safety, and compliance.  Our spectrum of boiler training is customized to the quick start with no experience to the seasoned operator. GCAP is known world wide for industrial refrigeration training, Boiler Division started in 2008.
Licensed high pressure boiler operators must have knowledge on a variety of subjects relating to power plant systems including: steam boilers, environmental controls, water treatments, economic devices and safe operation to prevent injury or damage
A well trained operator should know how to maintain and operator the plants equipment in the most efficient manner while keeping safety in mind,  demonstrating competence and knowledge as well as best engineering practices.  GCAP supply's training for over 600 different companies and 1,800 students per year. We believe keeping up with the industry's technology is the key to our success when we promote GCAP's hands-on-training labs.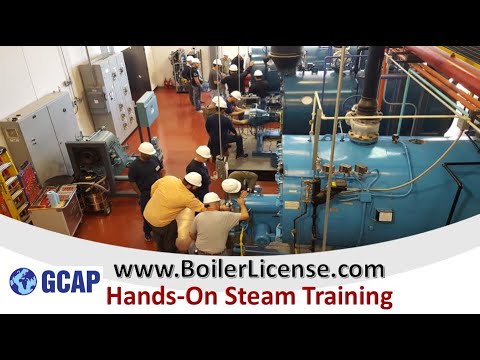 Mission Statement: Enhance the technology, efficiency, safety, and educate the industrial technician through commitment.
Whether used to control thermal processes or power, steam-production facilities are critical to the success of commercial and industrial complexes, requiring skilled professionals for safe and efficient operation. In the coming years, however, industries requiring boiler operators are facing a serious shortfall.
We offer comprehensive, in-depth training that teaches how to operate and maintain boiler systems at  maximum safety and performance. If you're responsible for the day-to-day operation or maintenance of your company's boiler room, if you're a maintenance mechanic, supervisor, operating engineer,  plant engineer, facilities manager, plant manager or boiler room supervisor—we have a boiler-training seminar that can help. All courses are taught by experts and allow ample time for open discussion about your specific needs. With Hands-On Equipment and live boilers, training material can be demonstrated.